Current and Direction Recorder TS 1020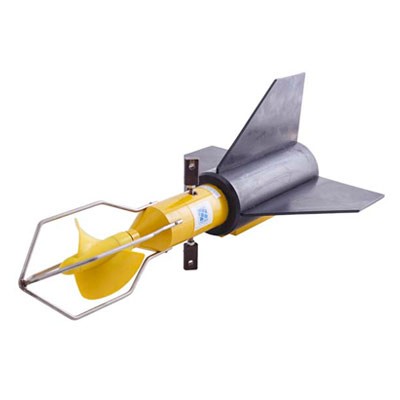 Featured Features:
• Acquirer and Autonomous Registrar.
• Measures Direction and Speed of the current.
• Very low consumption. Great autonomy.
• Operation via RF link.
• Minimum maintenance.
The TECMES Model TS 1020 Directional Comeograph is a device for rneasuring and recording speed and direction of currents in rivers, estuaries, etc.
Autonomous operation, allows operation submerged for long periods with minimal maintenance.
Made of non-oxidizable metals, it has a mechanism of great robustness and durability.
Your electronics records the speed of the current and direction using an electronic compass for very long periods of time without replacing your batteries.
With very few moving parts, only the propeller with its magnets inserted, rnake this equipment a very, reliable instrument.
Range:
Speed: 0,05 a 8 m/sec
Address:
0 a 360 °
Precision:
Speed: 1,5% ,for reading by
above 0,15 m/sec.
Address: +/- 5 °
Propeller:
Styrene 125 mm in diameter
Subjection:
To operate suspended from a cable.
Data register:
Configurable in 1, 10, 15, 20, 60, 120,
360 and 720 minutes
Measurement time:
Configurable in 1, 15, 30, 60 y 120
seconds
Conñguration and
Data download:
Via USBport or via RF by air 100m
reach, via AS1020 interface
to PC
Registration Capacity:
30.000 data
Power Supply:
4 AA alkaline batteries, up to 12
nonths of autonomy (measuring
every 15 minutes)
Dimensions:
Length 72 cm, fin width 14 cm and
height 27 cm.
Weight:
12 Kg
Download technical sheet
It Includes:
PC communication interface Model AS 1020
Replacement Propeller Shaft
Carrying case
User manual in Spanish and Engllsh