Satellite Rain Recorder TS 1221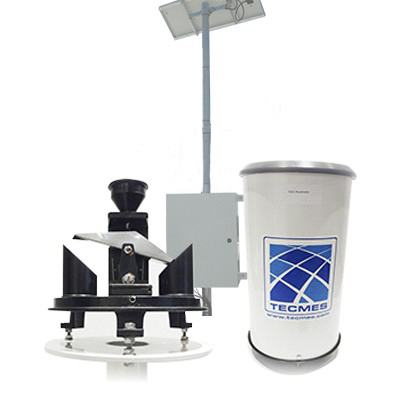 he TECMES Model TS1221 Pluviograph is a device for the measurement, storage and transmission of precipitation data by means of a tilting bucket.
The rain, collected by a catchment mouth of calibrated diameter, is conducted by means of a single-piece funnel to the internal receiver that discharges on a tilting bucket.
When you dump it, a magnetic contact (reed switch) without mechanical linkage with the bucket emits a digital signal.
This digital signal is sent to the TS 3040 Equipment, which is composed of a TS 2631 datalogger and an Orbcomm AS 3013 satellite transmission modem.
This equipment operates with a 12V battery which is charged by solar energy, through a photovoltaic panel.
The modem sends a message with the compressed data to an email box preset in AS 3013.
This e-mail is received and processed by a Central Station (EC) software service, which decompresses the data and incorporates it into the Database. This action generates a warning, notifying the arrival of new data.
The Orbcomm system maintains almost real-time connectivity, which basically depends on satellite coverage at the installation site of the equipment. The satellite link is made between AS 3013 and an Orbcomm earth station. From this earth station internet is used to reach the user with the nal information through the use of emails.
SPECIFICATIONS OF THE PLUVIOMETER
| | |
| --- | --- |
| Sensor: | Tipping bucket |
| Sensitivity: | 0.25 mm |
| Operation range: | 0 – 300 mm/h |
| Ori!ce Diameter: | 200mm pickup ring |
| Accuracy: | +/-1 % at 50 mm/h |
| Operating Temperature: | -20 to + 60°C |
| Insect protection: | Metal mesh in the funnel and in the water discharge |
| Detector: | Reed switch activated by a magnet |
MODEM SPECIFICATIONS
Power Supply:
9 to 14 Vcc (typical 12 Vcc)
Antenna:
Impedance:
50 ohm
Operating Frequency:
Rx 137,00 – 138,00 MHz.

Tx 148,00- 150,00 MHz.0 – 300 mm/h

Tx power:
5W
RS-232 Serial Port:
Signals:
RXD: pin 2 / TXD: pin 3 / 0V: pin 5
Configuration Mode against PC:
8-N-1 data format.

No flow control

Configurable speed

Autonomous Mode:
8-N-1 data format.

No flow control.

Configurable speed between 1200 bps and 115 Kbps

Operating Temperature:
-20 ºC to +60ºC
*Otras especicaciones y rangos disponibles a pedido.
Download technical sheet