Conductivity Sensor TS 282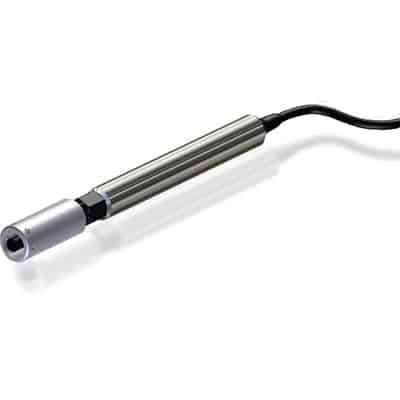 This submersible sensor up to 20 meters deep allows the precise measurement of the medium conductivity of titanium electrodes.
The measurement is based on the generation of a constant excitation signal in one of the electrodes and measurement of the induced signal in the second electrode due to the conductivity of the medium in which it is immersed.
The microprocessor controlled sensor allows a wide measuring range.
The body containing the electronics is made of AISI 316 stainless steel and has a 4-20 mA output.
Their low supply voltage makes them suitable for operating with PLC, datalogger, RTU, etc.
SPECIFICATIONS
Material:
316 Stainless steel
Dimensions:
Length = 265mm

Diameter = 38mm

Transducer:
Titanium electrode
Measurement Ranges (RM):
0-500µS; 0-5.000µS; 0-10.000µS; 0-20.000µS.
Output Range:
4-20 mA
Linearity:
±1% S.F.
Power Supply:
9 a 16 Vdc
Power Consumption:
30 mA
Load Resistance:
<300Ω
Cable:
3 conductors x 0.25 mm2 with PE.

Insulation Kevlar threads (for assembly support).

General shielding with Al.

MeshBlack PE outer sheath, D = 8 mm ± 0.2 mm.

Length: 10m
*Other specifications and ranges available upon request.
Download technical sheet