Humidity and Air Temperature Sensor TS251 T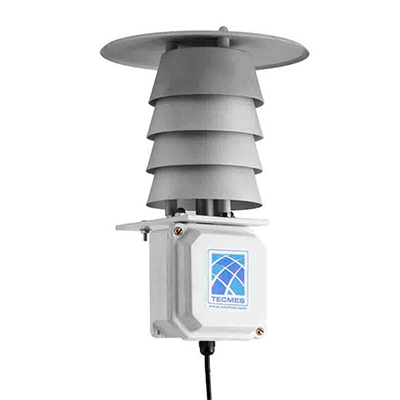 The combined humidity and temperature sensor Model TS251 T is designed for ambient measurement.
The humidity measurement is based on the dielectric variation of a high stability solid state capacitor, while that of temperature by a high accuracy platinum resistance resistance.
The sensor is protected by means of a filter, giving it high resistance to dust and contaminants and can be used for extended periods of time without recalibration.
The electronics integrated to the sensor, allows an amplied signal from 0 to 4 V suitable for recorders, weather stations, etc. A watertight cabinet houses the electronics, and is provided with an anchor suitable for attaching to a sunscreen and mounting arm.
HUMIDITY
Range:
0 – 100% HR.
Sensor:
Capacitiv, solid state
Accuracy:
+/-2% between 0 and 90%
+/-3% between 90 and 100%
Analog Output:
500 to 4000 mV
TEMPERATURE
Range:
-20 to +60°C or -30 to +60ºC
(Other ranges upon request)
Accuracy:
+/- 0,25°C
+/- 0,2 between -15 to +45 ºC
High level analog output:
400 to 3600 mV
Power Supply:
9 to 16 Vcc (typical 12Vcc)
Dimensions:
230 x 110 x 40 mm (no sunscreen)
*Other specications and ranges available upon request.
download technical sheet
Accessories
Sunscreen Model AS 250.
The TS250 included Multiplate Plate Radiation
Shield, manufactured with UV stabilized white
thermoplastic plates.